Vacuum Station Slim 3x outputs
Nuke Performance
---
Reviews
Help others choose right. Be the first to write a review!
Write a review
Vacuum Station Slim 3x outputs
The Nuke Performance Vacuum Station is the easiest way to get rid of to many vacuum hoses in the engine bay. Combine all your parts with need for vacuum connection into one connected to the manifold.
The body are CNC-machined from aluminum alloy 6082, anodized and laser engraved for long lasting appearance and function.
Often used when using many parts that all needs to be connected to the manifold, perfect for connection of fuel pressure regulator, blow off valve, fuel pressure gauge, fuel pulse dampers etc.
For use on turbo- super-charged engine applications.
Delivered with 1x 1/4 G Pneufit quick connect fitting and 1x 1/4 G Plug. The additional fittings are sold separately.
Thread size for the output ports are 1/8G and are sold separately due to the wide variety of different needs. We recommend the Nuke Performance 1/8 G Pneufit quick connect fittings to be used with this Vacuum Station.
Vacuum Station Slim is also available in x4 and x5 outlet ports setup.
Technical information :
• Aluminum extrusion from 6082-T6.
• The end thread is 1/4 G.
• The outlet thread is 1/8 G.
• Delivered with 1x 1/4 Pneufit Quick Connect fitting and 1x 1/4 Plug.
• Laserengraved.
Measurements :
Length : 95 mm
Diameter : 29 mm
Weight : 140 g
* All measurements including the supplied fittings.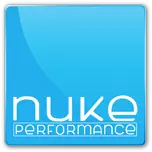 ----------------
Guides & Info
Be first to write a review about this product!
Your review:
To send a review, you must be logged in.