Fuel pressure regulator EFI
How they work and which one to get.
EFI = Electric Fuel Injection
Why you need a fuel pressure regulator
Fuel injectors want around 3 bar (43,5PSI) fuel pressure at engine idle. A fuel pump can't manage to do this with an open return line back to the fuel cell. This is why a fuel pressure regulator is mounted after the fuel rail where the injectors are located. Now we can achive a high pressure line between the fuel pump and the fuel pressure regulator.
If you use a spring set to 3 bar you will have a fuel pressure of 3 bar. If you use a 4 bar spring you will have 4 bar fuel pressure. -Simple. But at high revs you want more fuel into the engine. Not only the stoichiometric ratio but also some more fuel for cooling the cylinder. This can be achived by longer injector opening times but for this you will need to use biger injectors than necessary. Therefore we use the engine intake manifold pressure to help the spring hold more pressure.
If a 3 bar spring is used and your engine deliver max 1 bar of pressure you will get 4 bar fuel pressure. 3bar spring pressure + 1 bar boost pressure. This is called a linear 1:1 fuel pressure regulator and is the most common both in OEM and aftermarket products. As you cen tell from the name the fuel pressure follow the boost pressure curve linear. More boost need more fuel and that is happening atomaticly with a fuel pressure regulator.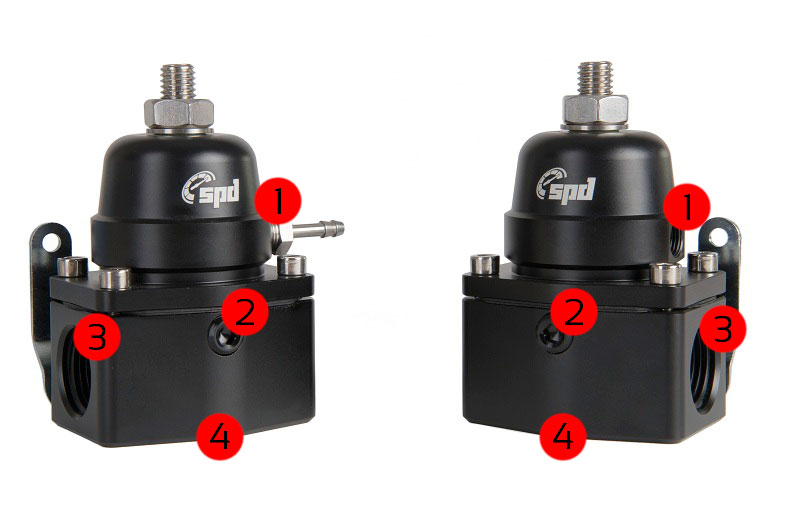 Connections
# Top side: Vacuum inlet for engine vacuum and pressure.
# Bottom front: Pressure sensor port for measuring
# Bottom sides: Inlet/Inlets from fuel rail
# Bottom under: Return port, back to fuel cell
Control
The membrane inside a fuel pressure regulator separates engine vacuum and boost to make that fine tuned fuel pressure to the injectors and lead the eccessive fuel to the return line.
Choose the right fuel pressure regulator
The market is filled with fuel pressure regulators and you can never know which to choose from the look. It's also hard to belive someone say it works. There is a big difference on making the car run and having a good funtional and reliable fuel pressure regulator. There are so many things that can go wrong. Sometimes you only get told by an engine faliure.
Okey, what should you look for then?
Starting from the top.
# The adjustable spring load / pressure screw. It should be leak free and maybe most important does it get loose from vibrations? this can result in a engine faliure. That's one expensive nut. Make sure this is tested from the manufacturer!
# The vacuum inlet hole should be no less than 1/8" big smaller than this caneasily get blocked by small loose hose pieces or forign material and the pressure regulation stop working instantly. 1/8" or bigger port!
# The Membrane must have reference mounting areas so the ballvalve is 100% in the centre. If not the regulation vill not work properly with exessive wear as a result. The ball must also be mounted in the middle. Be sure to check this!
# The return port must be dimensioned properly for your power goal / ful pump capacity. Check carefully that you can adjust the fuel pressure at idel to the lowest possible pressure for the type of regulator you use. If not the return port is to small.
Above is only a few of many things th check on a fuel pressure regulator. Imagine there are people working with this only to get the best and most reliable fuel pressure.