ZRP I-profile rods Toyota Supra 2JZ (PRO-series)
ZRP - Forged & billet engine internals

---
142mm / Heavy-duty PRO-series
---
Reviews
Help others choose right. Be the first to write a review!
Write a review
I-Beam ZRP Connecting rods for Toyota 3,0L 24V - 2JZ-GTE
ZRP connecting rods for Toyota are delivered in weighted sets with tolerances that only more expensive connecting rods offer.
The ability to also select connecting rod bolts according to the 3,0L 24V - 2JZ-GTE engine provides the best performance per cost that we know when it comes to connecting rods.
Specifications
Part number: R-TOY-006-IP
Length: 142,00
Pin diameter: 22,00
Big-End bore: 55,00
Big-End width: 26,00
Weight (gram): 630
Bolt size: 3/8"
Series: Pro Series
Shape: I-Beam
Additional Info: ARP L19 cap fasteners - Upgrade option to ARP 625+ material
ZRP connecting rods can handle more than 200HP per cylinder.
Weighed with a maximum of 1g in weight difference per batch. All connecting rods are CNC machined.
Max tolerance length: 0.001mm
Max tolerance bearing housing: 0.0001mm.
The bushings are made of AMCO18 material known as the absolute best-known material for bushings.
ZRP - Forged billet engine internals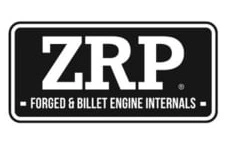 Be first to write a review about this product!
Your review:
To send a review, you must be logged in.
Associated products
Comp: 9.5 / Rod: 5.590", 142mm / Bore: 86.00mm

5-10 days
---
Comp: 10.6 / Rod: 5.590", 142mm / Bore: 86.25mm

5-10 days
---
Comp: 10.5 / Rod: 5.590", 142mm / Bore: 86.00mm

5-10 days
---
Comp: 9.5 / Rod: 5.590", 142mm / Bore: 86.25mm

5-10 days
---
Comp: 10.6 / Rod: 5.590", 142mm / Bore: 86.50mm

5-10 days
---
Comp: 9.6 / Rod: 5.590", 142mm / Bore: 86.50mm

5-10 days
---