Nuke blow off valve 50mm black - Hose connection
Nuke Performance
---
Reviews
Help others choose right. Be the first to write a review!
Write a review
Nuke blow off valve 50mm black - Hose connection
50 mm piston valve with the highest flow capacity available. When it is necessary to be able to rely on the installation and function.
Designed with a oversized 50 mm valve; we believe this is the largest valve available with the highest flow capacity. The body and all internal components are CNC-machined from 6082 aluminum alloy, anodized for a long lasting, corrosion-free appearance.
The Blow off Valve comes with one quick connect pneufit fitting, with oversized 1/4 connection for quick and actuator response. If needed, barb fittings are available.

Dimensions:

Hight: 98mm
Diameter: 88mm
Spring Pressure Chart: 
0,50 - 0,75 bar / 7,25 - 10,9 psi : Additional BLACK SPRING
0,35 - 0,50 bar / 5,07 - 7,25 psi : Stock / included BLUE SPRING
0,00 - 0,35 bar / 0,00 - 5,07 psi : Additional WHITE SPRING
** Measure engine vacuum at idle and with engine at operating temperature.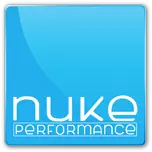 ----------------
Guides & Info
Be first to write a review about this product!
Your review:
To send a review, you must be logged in.
Associated products
Suitable adapter