Innovate DLG-1: Dual lambda gauge
One gauge, two widebands! The perfect solution for all V8 engines
Monitor left and right exhaust banks on one single gauge!
Perfect for all V configured engines
Plug & Play setup for both O2 sensors
No PC required for additional configuration
52mm (2 1/16") diameter gauge body
Interchangeable faceplates and bezels: Black and silver bezel, black and white faceplates included
User configurable OLED display (AFR or Lambda)
Multiple ways to display data on gauge
Patented DirectDigital™ wideband sensor control, 100% digital wideband air/fuel ratio technology!
Wideband O2 Compatible with several fuel types (Leaded, Unleaded, Diesel, E85 & more)
Ability to calibrate O2 sensors for maximum accuracy
Configurable linear 0-5v analog output for wideband O² for use with piggy back or stand alone ECU's as well as external data loggers
Innovate MTS serial in/out (for use with other Innovate & 3rd party MTS enabled devices to add additional logging channels)
Datalog both O2 channels using powerful LogWorks software on your PC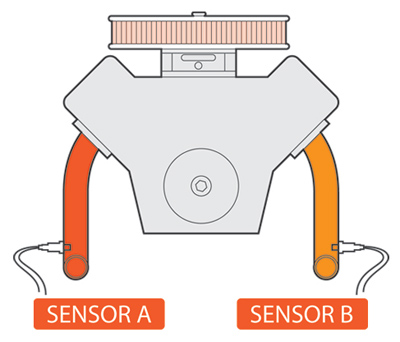 DLG-1: Dual Lambda (AFR) Gauge Kit - includes
DLG-1 gauge
2x Wideband Bosch LSU4.9 O2 sensors
8 ft sensor cables
LC-2 Wideband Controller
2x O2 sensor weld-on bungs
Black/Silver bezel
Black/White faceplate
Serial program cable
Installation manual
Installation and Setup
Installation of the DLG-1 is relatively simple. Complete documentation is supplied, and the support pages, application notes and tuner resources can also speed you on your way to effective tuning.
P/N: 3891
på en v motor = dubbla lambda. Nu vet jag att v8an mår bra!
Your review:
To send a review, you must be logged in.