Nuke Oil catch tank 0.75L (AN10)
Nuke Performance
---
Reviews
Help others choose right. Be the first to write a review!
Write a review
Nuke Carbon Catch Can 0.75 liter
Nuke Performance universal 0,75 liter Oil Catch Can with its canister in real lightweight carbon.
Universal Dual inlet Catch Can with internal baffling and with a unique 100 micron filtered outlet port. Dual 7/8" AN-10 inlet, dual filtration breather for competition, motorsports and tuning usage for any kind of vehicle that is in need of a crankcase gas catch can. Everything is included for single or dual inlet and atmospheric and recirculating setup.
Real-Carbon Oil Catch Can
Save an incredible -25% in weight
Made in Sweden
300-micron filter and stainless steel internal baffling
World-class dual filtration with a maximized functionality :
This unique dual internal filtration system prevents particles from escaping the breather with the 300-micron filter disc used both when using the catch can for atmospheric or recirculating installation. The dual filtration system makes sure to filter your crankcase gasses, gives you outstanding filtration which saves your engine in the short and long run.
Real lightweight Carbon Catch Can - first of its kind
The series of Nuke Performance Oil Catch Cans are used worldwide already, and within every kind of motorsports and tuning style but we thought we could take it to the next level - therefor we now have developed a lighter, more "bad-ass-looking" top-notch carbon version of our Performance Catch Can of 0,75-liter internal capacity. This version is as much as 25% lighter than our ordinary version.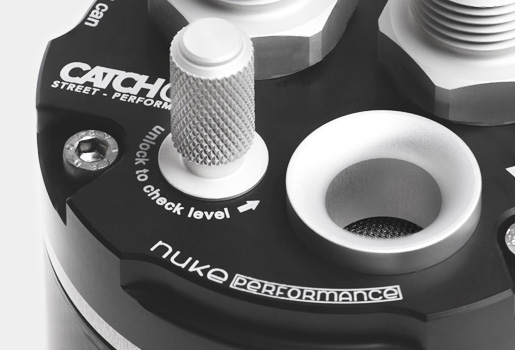 Anodized dip stick for easy reading of internal level
It comes with an easily accessible dipstick for fast and easy reading of the internal level, it should be easy and functional and fast to check the level between laps on the race track or when checking your levels before hitting the track or streets and this is as easy as it gets. Drainage is made easy with the optional peacock valve that connects to the 1/4 drainage thread at the bottom.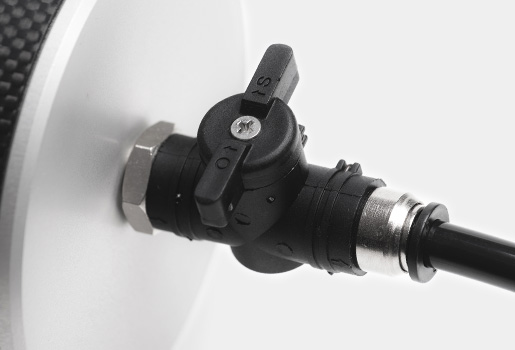 Drainage made easy with the optional drainage kit
Drainage is made easy with the optional peacock valve that connects to the 1/4 drainage thread at the bottom. It comes with a 1/4" peacock valve that fits straight into the bottom of the catch can. Route the included 2 m / 6 ft hose to an easy-access location, for example, the wheelhouse. It makes it easy to drain/collect the residual products without having to disassemble the Catch Can from the vehicle.
Partno: 265-10-101
Made in Sweden, guaranteeing the highest possible quality
Developed, designed, and manufactured in Sweden, inhouse by Nuke Performance. This is of the highest possible quality and with the same hallmark as all the other range of lightweight motorsports range from Nuke Performance.
This guaranteeing the highest possible quality - there is no substitute for the quality of Nuke Performance.
Technical information :
• CNC macufactured from aluminium alloy 6082.
• Real carbon body with epoxy glued top and bottom.
• Anodized finish for long lasting function and corrosion free appearance.
• 300 micron stainless steel cleanable / replaceable filter disc and stainless steel internal baffling.
• Laserengraved.
Measurements :
0,75 liter Catch Can
Height : 162 mm
Width : 90 mm
Depth : 106,4 mm
Weight : 750 g
* All measurements excluding the supplied or optional fittings.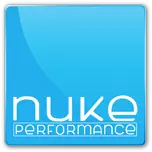 ----------------
Guides & Info
Be first to write a review about this product!
Your review:
To send a review, you must be logged in.
Associated products
Inlet