2G Fuel Surge Tank 3.0 liter for single or dual Deatschwerks DW400
Nuke Performance
---
Reviews
Help others choose right. Be the first to write a review!
Write a review
2nd Generation Nuke Performance 3.0 liter Fuel Surge Tank

This new updated version is the first of its kind specially developed and designed to mount a single or dual setup of Deatschwerks ground-breaking DW400 fuel pump, this fuel pump has a larger diameter and due to its high flow it demands perfect conditions to be able to perform at its maximum and we have developed the perfect solution in close work with the engineers at Deatschwerks.
Combine the two internal fuel pumps into one 7/8 AN-10 outlet. This Fuel Surge Tank is able to deliver steady fuel flow even over 1400hp. 
Run one or two fuel pumps individual with multi electrical connectors on the top lid. Designed and manufactured to handle extreme amounts of power with the same hallmark as all of Nuke Performance products.
Everything is included for running single or dual fuel pumps.
Fuel pumps are mounted with the billet internal mounting bracket.
This Fuel Surge Tank comes with and internal bracket for 39mm fuel pumps, making it possible to run any 39mm fuel pumps such as DW200, DW300, AEM 340L etc. There is also a FST with a internal bracket for the DW400.
With our Fuel Surge Tank, you minimize the risk when running at low fuel level, that the system not cope with the extremely hard driving such as drifting, drag racing and track days where you can exceed 2g, which could result in fuel loss.
The Fuel Surge Tank works as a buffer so the fuel pumps are always supplied with fuel for high outputs.
Our Fuel Surge Tank is available in several different setups, each one designed to perform to the maximum, either with internal fuel pumps or external fuel pumps.
Comes with a billet mounting bracket with our six bolt pattern making it sit stable in any installation.
Delivered with billet aluminum mounting bracket for easy mounting And 3 x 3/4 AN-8 fittings and 1 x 7/8 AN-10 for the top cover connections. 3/4 AN6 - AN10. and 7/8 AN-12 is optional and are sold separately.
Designed to stand up to the destructive properties of alcohol fuels, including methanol and ethanol.
Nuke Performance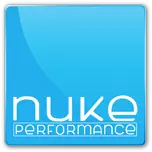 Nuke performance is one of the major players in aftermarket products for cars. They have been on the market for 10+ years and deliver products all over the world. This is proof that the products maintain a high standard and have been tested for many years.


Be first to write a review about this product!
Your review:
To send a review, you must be logged in.